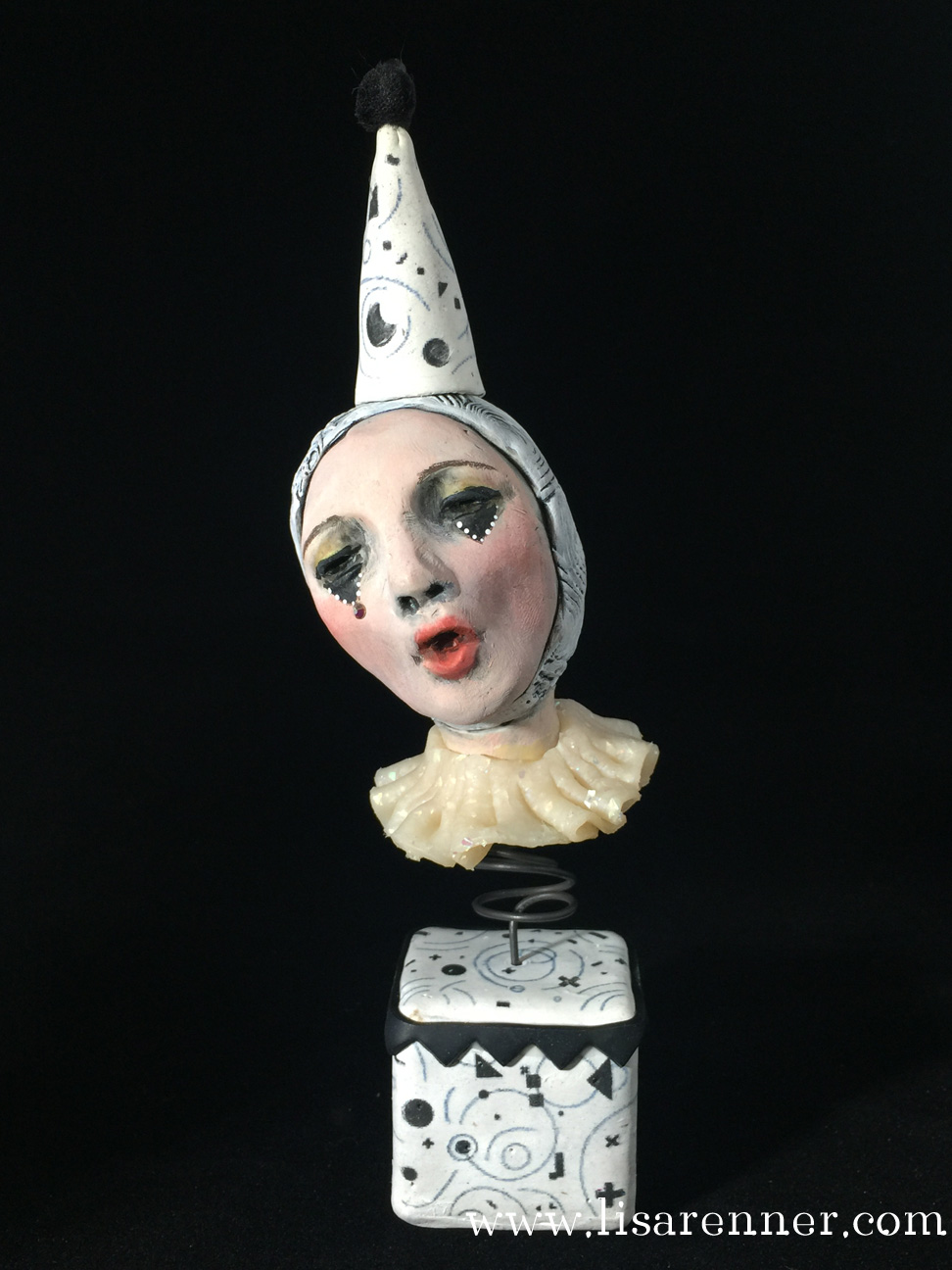 Amazing Bobble Head Figures
A Series of Pre-Recorded Videos
In this class we will spark our imaginations as we create a fanciful little "Bobble Head"- a slightly oversized polymer clay head attached to a small wooden block with a curled wire- allowing the head to move, sway, and bobble! 
For the face we will go over mold-making and how to modify to the features to customize the face when you pull it from the mold. I will also demo sculpting a face from scratch, without using a mold. If you like a crackle finish, I will show you a simple way to achieve a pronounced crackle effect. And to finish the face I will demo some easy "make-up" techniques to add color and life to your Bobble Head.
The wooden block can be considered a small canvas which can be decorated a number of ways. I will demonstrate several options for making polymer clay veneers using a variety of materials including acrylic paint, stencils, metal leaf, embossing powders, image transfers and more.
The finished Bobble Head stands approximately 5-6" in height. It is whimsically interactive and is sure to make you smile! Please join me!
Lisa Renner
Lisa Renner is a mixed-media artist whose interests include working with polymer clay, figurative sculpture, bookmaking, jewelry and encaustic. Sharing her art through teaching is one of her passions.
Her work has been published in several books including "The International Contemporary Artists, Volume V", and "Incite: Dreams Realized, The Best of Mixed Media" by Northlight Books, and in publications such as Art Doll Quarterly, Somerset Studios, and Belle Armoire. 
Lisa is a member of the International Polymer Clay Association.
One of her handmade Faux-Ivory polymer clay books is a part of the permanent Scrimshaw exhibit at The Mystic Seaport Museum in Mystic, CT.
Lisa is a born Texan and lives north of Dallas. She works full time as a surgical coordinator for a periodontist, where she's been employed for 30 years. Outside of work she loves spending time with her family which includes two beautiful grandchildren, and as much time as possible in her studio designing new workshops and creating art.
Lisa Renner Artist statement 2021
As a mixed media artist I enjoy the alchemy of combining materials and techniques in ways that can deliver both predictable and more importantly, unexpected results, particularly when working with my chosen medium of polymer clay. In my figurative art I am drawn to creating sculptures that veer away from a traditional format, and lean toward abstract forms that potentially elate the viewer and invite interpretation.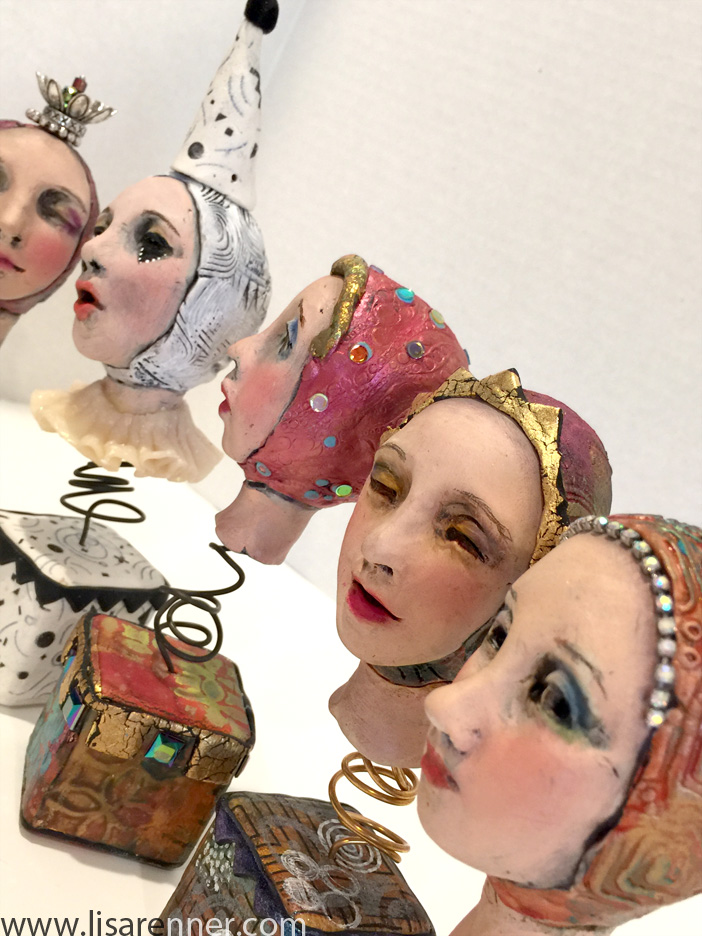 Optional Kit for Purchase
$20.00 (Includes a 1 ½" wooden block, a 13" piece of 14 gauge brass wire, a 4" diameter wood base approx. 3/16" thick (round or square depending on availability). Shipping within the U.S. included). Contact me if you want a kit: [email protected] Payable through Paypal only. 
Supplies Needed For Class
NOTE: PLEASE WATCH THE VIDEOS FIRST BEFORE YOU BUY ANY SUPPLIES. You will NOT need everything on this list and may already have most of what you need. Many items listed are optional depending on the veneer technique you wish to do.
Supplies and Materials:
·      Polymer Clay:
For head: I use plain white Sculpey- This is the clay that comes in large boxes. You will need approximately 1 ½ slabs out of a 1.75 lb box. Or you can use the clay of your choice- you'll need two packages (2 oz. each). (Optional: Customize your preferred skin-tone by mixing colors like Ecru, Beige, and White, with small pieces of Brown, Pink and Yellow).
For Veneer: Premo clay in 2 oz package. ( For this workshop I will be demonstrating some surface techniques to create your veneer, therefore I have recommended using black, white, gold or ecru, depending on the technique you wish to do. You will need one 2 oz. pack for the veneer on the 1 ½" block. Note that if you use a larger block you'll need more clay.
·      Clay tools (clay blade, favorite sculpting tools, silicone clay shaper, pasta machine)
·      A 1 ½" wooden block
·      Foil for making head armature
·      Face mold and dry release (The mold should be approximately 2" tall by about 1 ½" wide. This will make a head that is large enough for the 1 ½ " block without being too big. If you prefer to use a 2" block you can use a larger mold to make the head bigger).
·      Texture sheets and stamps
·      Bamboo skewer (for holding the head)
·      Metal knitting needles for smoothing
·      Toothpick for texturing and detail work
·      Heat tool
·      Ruler
·      Favorite stencils: (The block we are working on is the size of a baby block so combining small patterns with larger thin-lined designs will work best). Suggestion:
o  one with smaller designs (small flowers, dots, paisley, triangles, squares, etc)
o  one with a more open design, thin lines such as abstract circles- something that will contrast with your other stenciled design.
·      2-3 wedge make up sponges
·      Acrylic paint:
 For the face:
o  Burnt umber, black or other dark color for antiquing
o  Flesh for painting the face
For the block: (Choose a combo of colors that will look good together sponged on the block using stencils and a contrasting color that will "pop"): Suggestions:
o  1 or 2 colors matte or chalk paints (ex: light blue and green with red or purple to contrast) and:
o  1 or 2 colors metallic paint (ex: blue-green, lime green, gold, or copper)
·      A small paint brush to paint the face such as ½" filbert
·      A 1" cheap stiff-bristled paint brush for antiquing the face
·      Paper towels and/or baby wipes
·      Chalk and small soft brushes for make up
·      A tiny brush for eyes
·      Super glue
·      Small bottle of white glue such as Weldbond or Aleens tacky glue for adhering veneer and embellishments
·      Small amount of liquid clay
·      Dremel tool fitted with a 1/16" bit; Safety goggles
·      1 piece 14 gauge wire cut 12" long (Brass, Copper, Rebar, or Nickel silver)
·      Wire cutters
·      Chain and round nose jewelry pliers (to help bend wire)
·      Optional: flat-back gems, jewels, rhinestones, etc. for decorating block; border cutters by Create Along.com; metal leaf; silk screens, polymer clay canes; patterns for image transfer; embossing powders; flat base to attach the Bobble Head to such as a 4" square tile, coaster, wood panel, etc. Small piece of 1/8" diameter armature wire or other wire to secure the block into a flat wooden base.