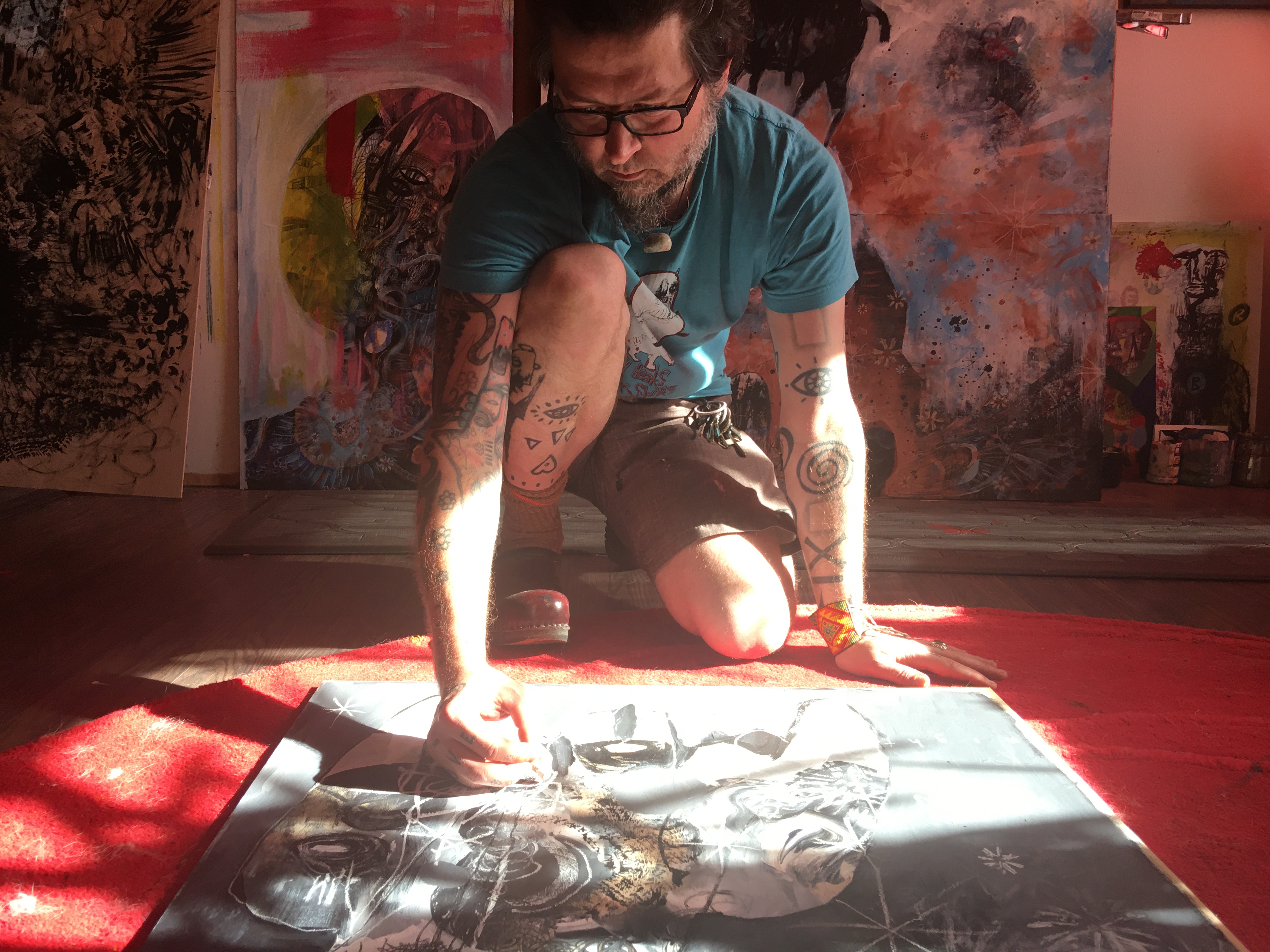 Jesse Reno
Jesse Reno is a self-taught mixed media painter. He has been drawing since he could hold a pencil, and painting and exhibiting his works since 2000.
Jesse has amassed over 3000 paintings in the last 12 years, and has exhibited his work extensively across the US and Canada as well as France and Mexico. Jesse's work has been covered in various art publications including Juxtapoz, Artnews, Artension, dpi and Somerset Studio just to name a few. One of his largest works can be seen in Winnipeg, Canada where he was commissioned by the Province of Manitoba to create a 25 x 40 ft mural as a reminder to the cultural importance of the Native American people in the region.
Creating Color
This class is open to all skill levels. Even if you never painted before this class will be great for you. Jesse's ideas are simple and fun. It is about combining ideas and finding yourself within the process. It is about making mistakes and learning to use them creatively to find new ideas.
This self paced video course is equivalent to a 5 day in person workshop with Jesse in terms of information and demonstration.  You can work at your own pace and on your own time from the comfort of your studio. In this class Jesse will focus on color with three distinct approaches to using and learning about color in an expressed, experimental, and personal way.
He will bring you through various exercises that will let you learn and decide what colors and palletes work best for you. With a straight forward hands on approach he take you through mixing colors from scratch and explain the effects different combinations have on each other and the viewer.
When looking at a painting, color is the first thing you see. To Jesse, it is the most important part of any great work. the arrangement and balance of color directs the viewer through your painting. No matter how complex your painting is, if the colors aren't right and the contrast doesn't create composition the viewer will become confused as to where to look and quite quickly become uninterested. This is why great color and a full range of tones light to dark are so important.
Jesse's materials and ideas are simple and focus on the core of creativity.
The skills ideas and philosophies he teaches are transferable to any artistic endeavor. This class is open to and appropriate for all levels of artist from someone who has never painted before up to fulltime professional artist.
In This Class You Will Learn:
·      Color in simple terms:  teaching you to understand and make your own assessments about what makes good color work together.
·      Using 3 different approaches to demonstrate and explain Jesse's ideas and philosophies about how size, shape and color are the root of all good paintings.
·      Starting with simple circles we will create our own color maps mixing from primary colors to create a full range or tones and color relationships.
·      Throughout the course he will create 3 paintings in distinct styles from start to finish.
·      The first demo is abstract:  no forms only shapes, size elements and color relationships. Next demo piece will blur these ideas into an artwork that uses many of hisd ideas and techniques for creating forms and characters. The other demo stays minimal focusing on composition, space, and shapes, while keeping things simple and space open to really bring forward the idea of composition and minimalism.
Each demo painting will focus on color but from separate focus and perspective. The more ways you have to look and something and learn about it the more you can truly understand it.
Supplies Needed for Class
Non toxic acrylic paint primary colors such as:
magenta, chrome yellow, phalo blue, mars black, block out white.
Oil pastels - He uses Cra-Pas expressionist - any oil pastels will work.
In this class he uses white, light blue, burnt sienna, and Naples yellow. Feel free to use what you have or use extras but all you need are the 4 listed.
A black colored pencil for line - he uses Progresso Woodless Pencils but again any will do use your favorite.
10 sheets of 100lb bristol paper
He uses bristol because it holds paint well and is sturdy enough to take lots of layers and stands up to aggressive work. You can get pads of 12- 20 sheets at any art store.
brushes:
1/2 in flat, 3/4 in flat, fan brush
Chip brush like you would get at a hardware store 1/2in and 2in
Jesse is all about simple affordable materials so that price doesn't stand in the way of creativity and expression. You cant get loose when your worried about ruining brushes or wasting a little paint. Its about the magician not the wand.
Here is a link to all the supplies with direct links to purchase https://jessereno.podia.com/supplies